Page 1 of 1
You cannot start a new topic

You cannot reply to this topic
MGS Forum Members - Own Putter Shows Up On eBay
Posted 02 February 2011 - 10:23 PM
---
Posted 02 February 2011 - 10:33 PM
Cool news! I remember you posting photos of this putter a while back, but had forgotten about until now.

---
Posted 11 February 2011 - 03:58 AM
How long have has the Manavian Putter Company been around and do they have other models? Not my style putter I'm an Anser style guy but would like to see other models if they exists. Wishing the company great success!

The Bag:
TM Superfast 2.0 V1Txxxxx + 9.5 w/ Aldila White RIP Beta S
TEE CB4 15* w/ Fuji Motore Stiff
TM R7 17.5 HFS w/ Matrix Ozik Code 8
Cobra mb's 4-pw w/ TT Black Gold
Titleist Vokey Proto's
52*,54*,58*


Bettinardi BB-1


Pro V1 X or TM Penta
GHIN# 5144472
My Boy Wayland with his favorite golfer Rickie Fowler at the AT&T National @ Aronimink Country Club 2011.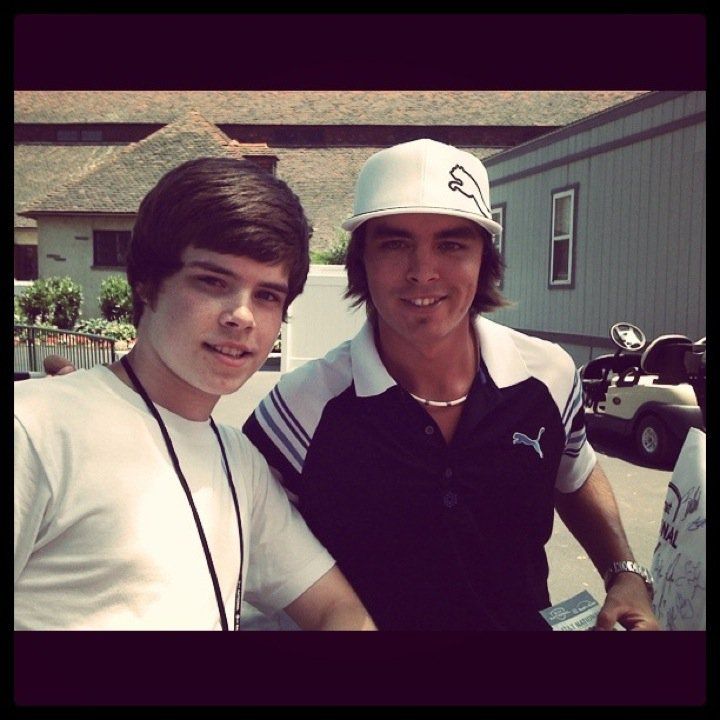 ---
Posted 29 September 2011 - 06:04 PM
What's it look like?????/

Clicked on the link, but there were no pix.

Blue Set:
Driver: Powerbilt WMD 10.5* White w/Project X 5.0 graphite shaft
Fairway: Powerbilt AFO 5 Wood
Hybrids: Nickent 3DX 2H(17*) with regular shaft, Nike VR Pro 3H & 4H w/Project X 5.5 graphite shafts
Irons: Nike VR Pro Cavity Back, 5 - SW w/Project X 5.5 Graphite shafts
Wedges: Nike VR Pro Cavity Back, PW - AW w/Project X 5.5 Graphite; Mizuno MP T11 SW with Spinner shaft
Putter: Slotline SSI 693 mid-mallet 33"
Bag: Kentucky Letterman Club II Cooler Cart Bag from Team Effort
Balls: Titleist Velocity & Bridgestone e6
Glove: Bionic Glove
GPS: iGolf Neo+

Black Set:
Driver: Powerbilt AFO 10.5* Fujikura reg shaft
Fairway: Powerbilt AFO 3 Wood
Hybrid: Powerbilt AFO 3H & 4H
Irons: Powerbilt Air Force One 4-PW, AW, SW with Apollo regular grahite shafts
Putter: MacGregor Response w/urethane insert 33"
Bag: PGA Tour Partner Burton cart bag with name on bag

Backup Driver: Callaway FTiz 11* w/Project X 5.0 shaft
Backup Fairway: Callaway FTiz 3W with Callaway stiff shaft
Backup Hybrid: Callaway FTiz 3H & 4H with Callaway stiff shaft
---
Share this topic:
Page 1 of 1
You cannot start a new topic

You cannot reply to this topic
---
1 User(s) are reading this topic

0 members, 1 guests, 0 anonymous users
Recent Status Updates
Recently Added Topics