Page 1 of 1
You cannot start a new topic

You cannot reply to this topic
Golfer With NO Arms! - (VIDEO)
Posted 17 February 2012 - 02:26 PM
---
Posted 17 February 2012 - 03:17 PM
That's crazy!!!!!
Driver: Taylormade R11 9°, Fujikura Blur 60 S-flex
Fairway: Taylormade R11 15.5°, Fujikura Blur 70 S-flex
Fairway: Acer XDS React 18° "Machete", Fujikura Fit-On E-360 R Flex
Irons: Taylormade Burner 2.0, 4-PW, Steel SuperFast 85 R-flex
Wedges: Cleveland CG-14 Black Pearl 52° AW, 56° SW, 60° LW
Putter: Bionik 207 Nano Mallet Belly Putter, 43", Winn 21-inch Red/Black Putter Grip
Putter: Cleveland Classic #2 BRZ, Winn Jumbo Pistol Grip
Ball: Searching for a Penta TP replacement...
Callaway LR550 Laser Rangefinder
---
Posted 17 February 2012 - 03:23 PM
Goes to show that distance does not equate to a low score! Breaking 100 with no arms and the zero forgiveness clubs they used back then, wow!

Driver

:

Taylormade R11s 9* + .75* loft

with 45" Black Ops S+ shaft, PURE midsize tour grip


3-wood

:

Taylormade RBZ Stage 2 Tour 14.5*

with 43" Black Ops S shaft, PURE midsize tour grip


Hybrid

:

Taylormade RBZ Stage 2 Tour 18.5*

with KBS Hybrid S shaft, PURE midsize tour grip


Irons

:

Taylormade Rocketbladez 4i-PW

with KBS Tour S Shaft, GP Multicompound midsize Grip


Wedges

:

SCOR 4161 Wedges 50*, 54*, and 58*

with KBS Genius 120 firm shaft, PURE midsize tour grip


Putter

:

Ping Nome 35"

, Black Dot, Slight Arc, stock midsize Ping/Winn Grip


Ball

: 2010 ProV1x (recycled) or Bridgestone B330-RX Yellow
Ogio Sultan Cart Bag, Clicgear 2.0 Cart, Hirzl Control Golf Glove, Leupold GX1 Rangefinder, TourStriker Pro 7i

Taylormade RBZ Stage 2 FW and Hybrid Official MGS Forum Testing [initial] [full review]
Taylormade Rocketbladez Irons Official MGS Forum Testing [initial] [full review]

2012 Reviews: Bridgestone Balls, Black Ops Shaft, PURE Grips, Pro Mental Coach, Dynacraft Prophet Tour CNC Forged Irons

Bag Link
---
Posted 17 February 2012 - 06:49 PM
Image him with today's clubs and golf balls, he kind of reminds me of a swinging belly putter

John Barry
Bring the Funk, Back to Golf
The Golfer's Trip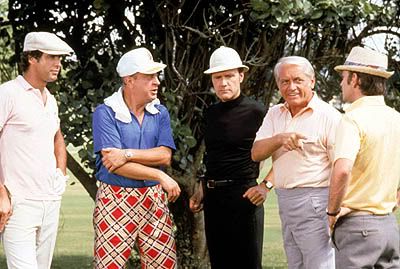 ---
Share this topic:
Page 1 of 1
You cannot start a new topic

You cannot reply to this topic
---
1 User(s) are reading this topic

0 members, 1 guests, 0 anonymous users
Recent Status Updates
Recently Added Topics