First Impressions
Wow are these things clean. The lines are great on them. One of my biggest pet peeves was the large topline on some of my Mizuno irons and these alleviate that.  I am in no way a photographer, so please excuse the poor lighting and quality. 
Specs if anyone is curious - Not picture below but the 4 iron is a T200 with Graphite Design IZ 85 X flex shaft
Feel
Not quite as buttery soft as my Mizunos.  Not harsh by any means, but I don't get quite as amazing of feel by really flushing one.  On the flipside, with a bit of a mishit, feels much better in the hands.  No worries in the cold this season for me (well still some worry, but not as bad).  Still getting used to them so more on this throughout the test.
Looks
Really like the satin finish of the T100-S, but if I'm honest, I think I prefer the chrome look of the T200 in the 4 iron a bit more.  More to come as I see them in the bag on a regular basis. The back has minimal look with a lot of technology packed in behind the scenes.  Topline is right where I want it to be.  The offset is very minimal and maybe even less so that my mizuno – will have to research that.  Also, the transition from shaft to club head is very smooth, the mizuno has a bit of extra meat right there while the Titleist is more flowing.
The Titleist has the blade like look, but does not make me scared in the least at hitting them. You can see the top line of my mizuno 8 iron on the right looks rather bulky compared to the Titliest.  I think it gets it just right here on the Titleist.  Blade Length may be ever so slightly longer in comparison as well.
Immediate Differences to my current Gamers
Much higher ball flight!  The tungsten in these are no joke.  The flight is not spinny by any means, but gets through the air easily and stops pretty quickly.  Numbers on a trackman only tell you so much, but seeing the ball flight in person, it's very noticeable how high I'm hitting these.  I'm not changing anything else in my swing and it's just higher.  Also, small mishits are forgiven much better than the Mizunos so far and feel better like I said above.  I won't go into this too much here, but have noticed that I'm hitting a bit more of a draw with these compared to the Mizunos.  Likely the swing, but planning on taking both out to the course and playing a hole with each to find out.
Below is a straight on shot of the 5 irons of both sets.  The hosel looks shorter on the T100-S, but in person is about the same.  Honestly, they are very close in shape.  The main difference is under the hood and the cavity being larger on the T100-s compared to the smaller split cavity on the Mizuno.
Below is the gap wedge compared to my current vokey SM6 Gap wedge. More of the traditional teardrop shape from the wedge, but the T100-S 48* is more pleasing that I would have imagined.  Top lines are pretty close to my eye, but sole is definitely a bit smaller over the Vokey.
Comarison of the Srixon ZX and the T200 4 Iron.  No surprise here that the sole width is wider on the ZX.  Thus far, I'm finding the T200 4 iron forgiving and easy to get airborne.  Maybe not quite as easy to hit as the ZX, but still getting used to the clubs.
Loft Comparison
I could have went with the T100 and been pleased, but knowing where my lofts currently are for my mizuno's, I thought it'd be an easier transition to go with these.  I was right and wrong
The Fitting
I knew about these irons from seeing pictures online on Instagram.  I watched the TXG video and a couple other Youtube videos to see initial impressions.  I even went to my local shop to take a look at the iron head because I knew I would be interested in trying them out for potential purchase this fall/winter.  Fast forward a week and I was chosen for the test!
I'm accustomed now to seeing all of the data from Trackman, so I knew what I was looking for out of my 7-iron demo club.  (Off topic, but when did we go to a 7 iron instead of a 6 iron during a fitting? I guess with hybrids these days, a 7-iron is a closer representation of your middle iron in a set, but still am left wondering when that truly happened. )  I tried out 6 different shafts through a few days of testing. As Follows:
KBS Tour X-Stiff
Project X 6.5
Project X 6.0
KBS $ Taper X Stiff
DG Tour X100
DG AMT White X100 (Current Shaft)
I've been to enough demo days and fittings that I had a good idea of the iron shaft that would work best.  The KBS Tour and the Project X 6.5 were neck and neck.  I could have picked either and been good.  At first I selected the KBS because it felt less stiff and I didn't feel like I had to swing 98% every time.  I started to find a groove with that shaft and it continued when I went to Project X, but that was a point where I was swinging my best and quickest during the fitting at around 96 mph. 
Unfortunately due to shut downs across the world, Titleist had issues sourcing the KBS shafts in time.   Thus, I went with my back up and very close second the Project X 6.5's.  A bit more stout with a hair less feel than the KBS but numbers were terrific with this shaft.
 ******Update, my irons came in with the KBS Tour shafts.  I don't know what sorcery someone at Titleist had to pull to grab these, but thank you. They feel incredible.
Also, I went with MCC Midsize grips as it feels best and what I have in most other clubs.  I tried the MCC +4 and have had those in my irons since 2017, but they've always felt a bit small. Glad we were able to get the grips that would work best.  Also the MCC hold up extremely well for me. I usually am getting several years of play with them with no issues.
Next thing I noticed is that I was getting amazing ball speed numbers for my swing.  I had a few 7 irons over 130 mph ball speed on trackman.  When I was last fitted to my Mizunos – I was in the 125mph range, but that was with a 6 iron.  Even with that being said my distances stayed close for standard deviation.  Shots that I felt weren't struck great, were still around 124 for ball speed and flying only about 5 yards short so I could see the forgiveness.
Last thing that was crazy to me was that going in I thought I'd be hitting these fairly low due to the stronger lofts.  I'm hoping the trend continues on course, but I was getting average land angles of 51*.  To put that in perspective the fitter said anything 45 – 50 is good and PGA is 48 – 50.
Stats from Current Gamers (MP 18 SC)
Initial Post
Thanks for somehow picking my name out of the incredibly large hat that made up the nearly 16,000 entries to this test. THANK YOU TO TITLEIST AND MGS for the opportunity!
I've been active on MyGolfSpy since 2017 and this has been an incredible outlet for me to take a deep dive into all golf has to offer.  Sometimes I get the eye roll from my buddies for going into some crazy technical speak so it's nice to be able to share my opinions and thoughts here. 
I'm 34 and have been playing golf just over 20 years.  I turned to golf initially to spend more time with my grandparents since I've always been close to them and my grandpa even shot his age a few years back (84). Growing up, it was always a way to get away from the other sports I was playing competitively and while I wanted to play well – I could get over a bad round more easily than a bad game/match in another sport.
I truly got addicted to golf in college and would get out as often as my limited bank account would allow.  I started to improve and went from shooting mid 80's to shooting high 70's.  My buddies joke that I knew all of the break on the carpet in our college house since I was always putting.
I've fluctuated a bit over the years but have managed to stay anywhere from a 3 to a 7 handicap over the past 12 years.  My wife and I have been together nearly 10 years and have 3 amazing kids (Alaina 6, Olivia 5, and Lawson 3).  I'm trying to play golf with the kids, but they aren't all that interested yet.  Which is ok because we don't need a ball/club to the shin type situation.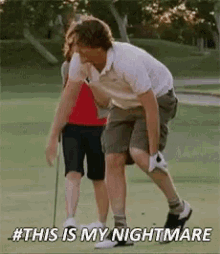 Current Game
This year has had some ups and downs for me physically.  I tore my Achilles playing basketball in January but didn't have surgery until February.  I was able to start golfing again about 2 months after surgery but wasn't completely confident in swinging until May.  Luckily, my swing did not suffer that much and have gone from a 5.1 to a 2.7 at one point this summer. Hovering at a 3.5 right now, but can shoot anywhere from a 74 to 84 on a given day.  Before switching to work from home permanently, my golf rounds were down to around 15 per year.  Now, I'm able to add in more 9-hole rounds over lunch or go to the range to keep the swing loose.  I've actually only played one golf round over a weekend this year. 
Biggest Questions Going into this test - 
Can my iron game get noticeably better?
My iron game is probably my biggest strength and I've noticed an improvement since I've had my Mizunos.  There definitely is room for improvement, but will these make that impact?  For reference I average 11.8 GIR and would say proximity is 35 feet on average when I do hit the green.
Are Titleist Irons still as good?
My first set of "players irons" were a pre-owned set of the 2010 AP2's.  Made a huge difference for me in terms of GIR and dispersion. Also, I think they helped my ball striking going from a game improvement iron in the Cobra SSI Oversize to the AP2's.
Do they feel as good as Mizunos?
With having my irons for 4 years now, I can say that nothing has felt like a Mizuno thus far.  Like many others on the forum, I always like to try the new stuff that comes out and nothing has contended with my Mizunos for a while.  This will be interesting to see if the Titleist can contend.
Is the progressive bounce design noticeable?!
You hear about the importance of bounce with wedges, but I've not heard of it in your irons.  Stay tuned…
15

1
Driver:  
Mavrik Sub Zero 9* (Set to 10) Ventus Blue 6X
2 Hybrid: 
 818 H2 Hybrid Tensei Blue 80 X
4 Iron - Srixon ZX 23* Recoil F5                                                     Testing: 
 T200 4 Iron Graphite Design Tour AD IZ X Hybrid Shaft
Irons 5-PW: 
 MP 18 SC Dynamic Gold AMT X                   Testing: 
 T100-S 5 - GW KBS Tour 130 X
Gap/Sand Wedge:  
 Vokey SM6 49*  SM8 54* 
Lob Wedge:  
Jaws 5 Wedge 58* DG Tour Issue Stiff
Putter:   
 Phantom 5.5 34"      Pro Platinum Newport 2 35"      Taylormade Tour Black Spider 34"