The lovely & vivacious Nidine and I spent our last 5 days playing golf and sipping the wines of beautiful Kelowna British Columbia. About a 4 hour drive from our home in Vancouver, Canada. We were fortunate to spend our vacation with an old friend, a current PGA of America and First Tee teaching instructor who now makes Kelowna his home with his large beautiful family.
Kelowna, located 1,110 feet above sea level,is the largest city living amongst the hills of BC's Okanagan Valley. It runs along the shores of Lake Okanagan (which spans 110 kms or 68 miles) and is at the Northern most tip of the Sonora Desert. Although summers are hot and dry, Kelowna is home to lush golf, wineries and orchards reminiscent of the Napa Valley. Wildlife abounds in the region as bear and deer sightings are the norm.
But what would a Dan article be without a brief mention of cryptid lore. Lake Okanagan has always been known for its version of the Loch Ness monster; Ogopogo. Sighted for hundreds of years by locals the legend has grown and still maintains roughly 6 sightings a year. Sci-Fi channel's MonsterQuest even ventured north and did an entire episode dedicated to the lake's great beast. Unfortunately there were no Ogo sightings or yeti/sasquatch for that matter this trip.
But like I said there's golf and tons of it. With over 2,000 hours of sun every year and more than 19 golf courses, Kelowna is truly Canada's most coveted golf destination. It is most famous for Predator Ridge Resort which has hosted the Canadian Skins game, but sadly we did not get to play it this trip. Do not fret though we did manage to play some phenomenal courses.
http://www.golfkelowna.com/
Round 1:
Black Mountain Golf Club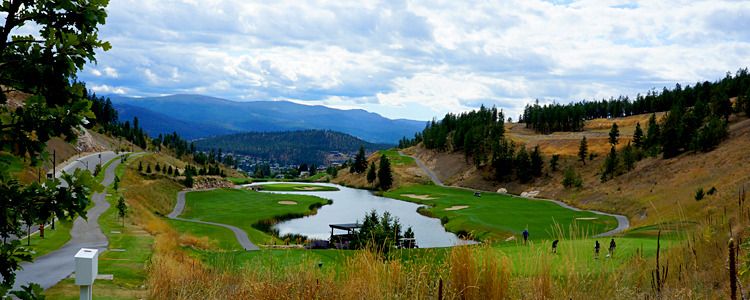 This 6,400 yard par 71 is nestled along the hills of the aforementioned Black Mountain within a planned "Golf Community". A newer course to the area, which is at times a little quirky; but never the less still a fun & challenging lay-out consisting of six – Par 3's, seven – Par 4's and five – Par 5's. The front nine is the gem of this course with scenic holes cut along hills and water hazards lining the fairways. The back nine is a little forgettable as from the 12th on every hole starts to look the same cut back and forth through the ponderosa pines. A green fee, including cart, will run you anywhere from $49 to $89 (carts included) depending on time of day. If you want a course that's not very taxing length wise, but still puts a premium on accuracy, while offering top notch views of the valley; this is the course for you. I'll also mention that they are very laid back and cater to the everyman golfer. To quote their website:

"We're not your typical golf course. We have no white glove service at Black Mountain! When you walk through our doors, you haven't walked into a Clubhouse; you've walked into our home. Everybody at Black Mountain is family, and we strive to create the most fun and relaxed golf experience for each and every one of our guests…..every time!"
http://www.blackmountaingolf.ca/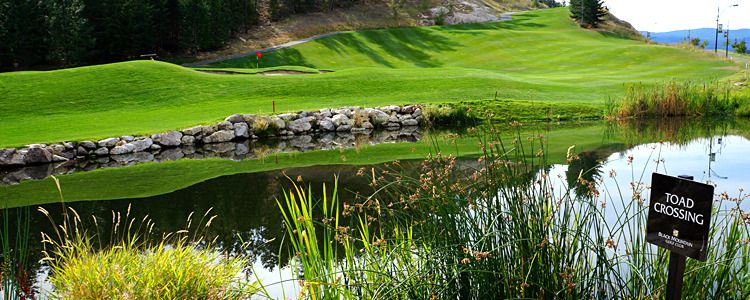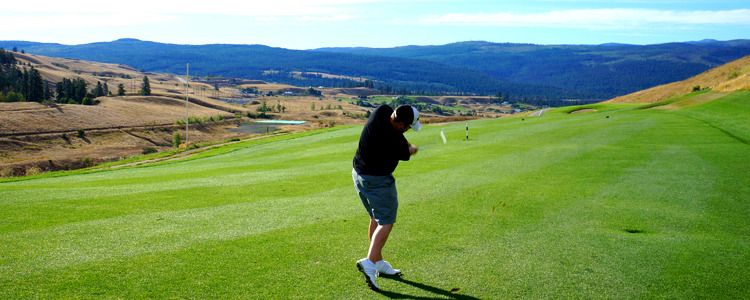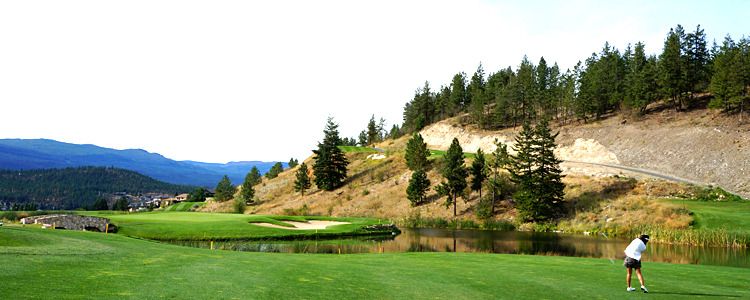 Round 2:
The Club at Tower Ranch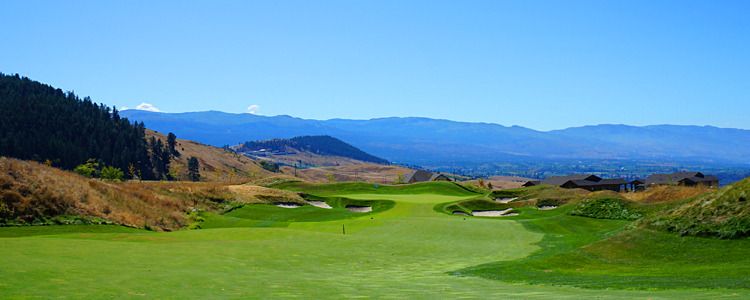 Now officially number 2 on my all-time favorite courses played list. A 7,200 hundred par 72 cut into the mountainside of the former Tower cattle ranch. Every hole of this course offers its own unique view of the Okanagan Valley and lake below. From its lowest hole bordering an orchard to its highest offering stunning panoramas, it's truly an amazing piece of property that is a must play for anyone visiting the region. Except for 2 holes that feature considerable forced driver carries Tower plays surprisingly driver friendly. The fairways are generous enough that if you're not spraying it all the time you'll at least be in the first cut, but lose one too far right or left and you'll be playing from the fescue or down some sort of drop off. The par 3's are all pretty breath taking, all involving a forced carry and although they can span up to 244 yards from the back they all play downhill making that distance considerably shorter. Expect a steeper green fee for this course though starting at $60 and up to $110 (carts included) depending on time and season.
http://towerranch.com/golf/
*NOTE: Nidine would like the ladies to know that the young gentleman working the shop has a very strong resemblance to one – Tom Brady
Holy cow is that Rory?!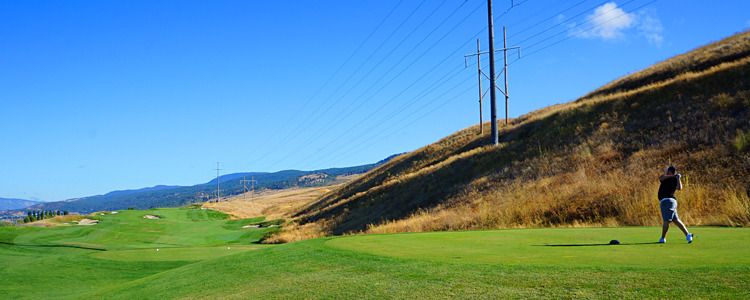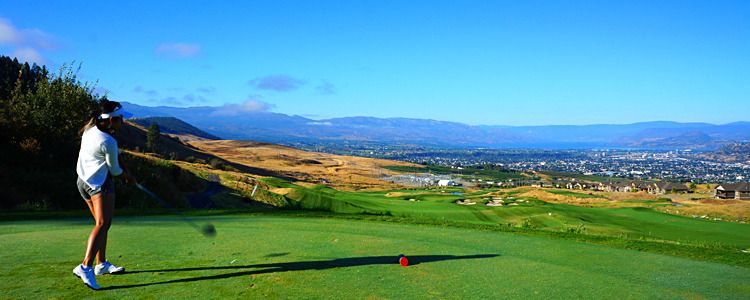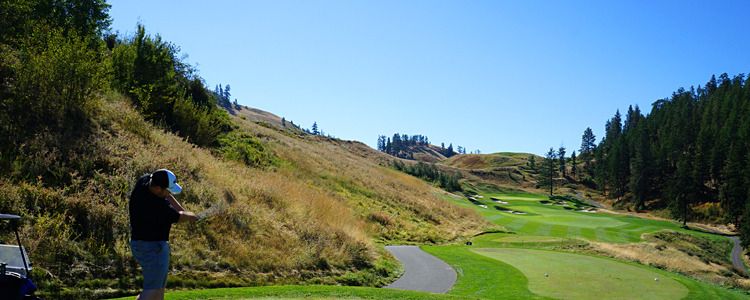 Rounds 3 & 4:
The Harvest Golf Club

Although this is portrayed as the classier joint that all the local well to do's (for example NHLer's who call this town home in the off season) are either a member of or just play out of, it's so non-pretentious it's not even funny. It carries that country club aura when you drive up the long driveway to the lovely clubhouse and that's further reinforced buy its wonderful grass tee range and large practice areas. But let it be known; the staff at The Harvest is perhaps the friendliest and accommodating I've ever encountered. It's funny, our host for the week who is a member is well known for his frequenting of Friday and Saturday nights "prime rib" and the staff of the restaurant openly jokes about it. I had to "rib" him often about this. The Harvest features a beautiful clubhouse which looks directly out over a Japanese garden, then down the hill over downtown Kelowna and out to Lake Okanagan. Our first night in town Nidine and I sat on the patio and had dinner, enjoying the sunset over the valley. "What an amazing piece of property" she kept saying as she loaded the memory card with picture after picture. We could not wait to play here later in the week.
The Harvest is cut through old orchards and all holes are lined by apple, cherry or pear trees. The course has its own vineyard on the south ridge and a spattering of orange trees from time to time. At 7,100 yards its par 72 layout will challenge anyone's game as it rolls up and down the hillside, but offers generously wide fairways that are defended by well-placed bunkers and large multi-tiered greens. Miss the fairway and you are often greeted by a quite think and snarly second cut. Once again this is a course that offers a panoramic vista of the valley from every hole. What about those apple and pear trees you ask? The cool thing is all who play are encouraged to help themselves to an on course snack or take a few for the road. This really is a player's course with a lazy country atmosphere and just a pleasure to play. Green fees will run you $55 to $120 (includes carts and range balls), once again depending on time and season.
http://harvestgolf.com/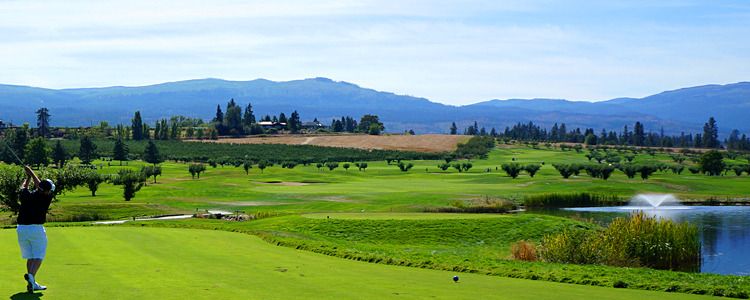 Accommodations & Food:
Kelowna has everything from the $60 motel to the $550 per night Delta Grand. From our research most hotels will offer stay and play packages as well. We were fortunate enough to find a condo rental right on the lake for a little more than a good hotel.
http://www.kelownabayresort.com/
Gotta vote!
Kelowna is known for a vibrant nightlife and great food. A block from our condo is what I've been told the best rated French restaurant outside of France; Bouchons, we didn't eat there however as it was outside of our road trip food budget. Having a full size BBQ on the deck we only got out one night anyways, but found a fabulous Italian joint "Mimi's Italian Grill" in the lively downtown core. Can't say enough about Mimi's it was an amazing restaurant experience and decently priced to boot. Other than that the usual standards from Macdonald's to The Cactus Club are available for eating.
http://www.mimisitaliangrill.com/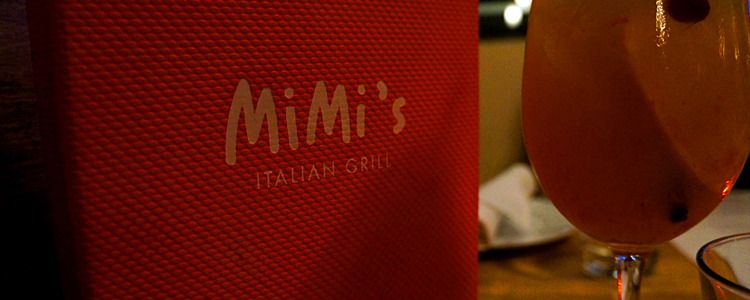 WINERIES: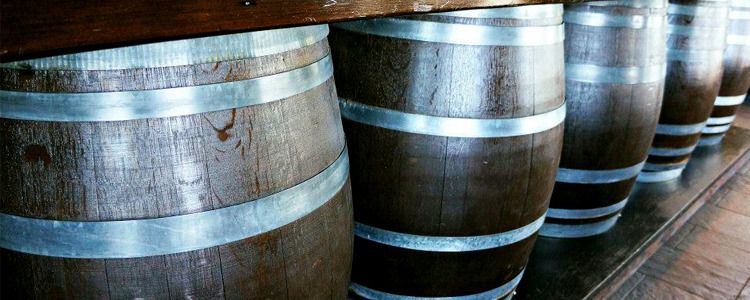 It seems like you can't turn a corner without a sign pointing you to one of Kelowna's local wines. There is shuttle bus or even bike tours of the various vineyards available. We did our tours after golf each day and Nidine was kind enough to take one for the team by doing all the tasting while I drove. This made for some spirited car rides after the first 4 each day. Some musts though if you do make it out include; Mission Hill, designed to look like an 1800's mission and pretty breathtaking. Ancient hill for its delightfully cozy little wine shop and Rollingdale Winery for its non-pretentious attitude and educationally cool wine tasting experience.